Whitefish, Montana
Outdoors, Indoors, and New Age
Few expect Montana to be a bastion of the New Age, and we didn't either. Surprisingly, there's plenty to go around in the beautiful state.
Whether it's Missoula or Bozeman or Whitefish, you can find your share of yoga and meditation and crystals. And because of the amount of winter activity, health food is a normal part of the local cuisine.
Whitefish is one of our favorite Montana towns. Just north of Kalispell and the northern tip of Flathead Lake, it's bolstered by a ski resort, and skiing's accompanying trendiness, as well as the stunning Glacier National Park.
During the summer it's dominated by Glacier Park traffic, mountain bikers and hikers. Winter is a bit slower, but still busy, because it's reduced to year round residents and skiers.
With Glacier open only during the summer, and usually getting snowed in by September, and the ski resort not open until early December, two distinct business seasons are created, with marked spring and fall shoulder seasons during which the town slows significantly.
Downtown
Whitefish itself is small. Downtown consists of three blocks on one street, with a couple of offshoots. It is on the offshoots, however, that some of the better locations are found. We are personally fans of the Stumptown Marketplace, a tiny indoor mall between an alley and Spokane Avenue. Inside is a juice place, two little cafes/restaurants, a coffee shop, an art gallery and a pastry shop. With community seating, it's different from the traditional gift shops and restaurants in the area. During one of our trips, we had a Lime Greens juice, sans ginger, and enjoyed it more than our usual green juices that we slam down.
If you're there in the summer, stay for a Tuesday and visit the downtown farmers market [LINK]. Just north of downtown, in the park and and along the road, you'll find a wide mix of local fruits and vegetables and wares.
The Three Towns
Whitefish is the northernmost of three towns. Columbia Falls to the east is more family oriented without the central district of bars and restaurants. However, it boasts a variety of new age activities as well, including its own a farmers market. Kalispell, twenty minutes  south, is the largest of the three.
Because we are accustomed to twenty minute drives and consider them to be equivalent to a walk to the corner, we're going to include some elements of all three cities, with Whitefish being the focus.
Columbia Falls
A few miles east of Whitefish, on the way to Glacier, is Columbia Falls. While we have driven through multiple times, it was not until recently that we happened up on the farmers market. It was thriving, and we decided to expand our investigation. We found the town to offer more in the New Age realm than we had expected.
The town is not as connected to the skiing as is Whitefish. Columbia Falls is more a gateway to Glacier. However, the retreat centers lacking in Whitefish proper are located in Columbia Falls.
Kalispell
Kalispell is at near the top of Flathead Lake, the largest natural lake by surface area west of the Mississippi. (Tahoe holds more water) with the building of the mass of strip malls and big-box stores, headed up towards Whitefish, the town has begun to move north as well.
What was unexpected, is the amount of flatland surrounding the northern part of the Flathead Lake. This has been cultivated and contributes to the large amount of local food in the area, as well as to a much more agricultural community than you get in Whitefish.
Glacier National Park
A big draw to the area during the summer is Glacier Park. And yes, there are still glaciers in the park–not as large as they once were, but snow exists year around. The entrance fee is sturdy ($30 in the summer), so we highly recommend putting that towards an $80 annual pass, which can be purchased at the gate or on-line. (LINK) An annual pass works for the whole car. Without becoming a travel guide, we think it's a tremendous national park and well worth the trip.
Whitefish Mountain
Renamed for marketing purposes, the locals still refer to it as Big Mountain. (LINK). A SKI magazine review of the mountain is here. With easy access to the hill from town, activity picks up again after the November shoulder season. Not yet fully corporate, and a bit more cloudy than some others due to its tendency towards an inversion layer, crowds are relatively small and lift-lines are still reasonable.
Big Mountain gets dual use. During summer, there's an alpine slide. The main lodge is open for lunch or coffee, and a lift runs to the top of the mountain, for those who just want to see the view, and for a large number of mountain bikers. The mountain is criss-crossed with trails. Rentals are available on the mountain as well as in town.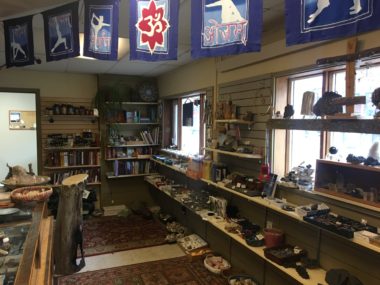 The Arts
Similar in a way to Idyllwild, Whitefish has a small but vibrant artist community. The town boasts a performing arts center and a non-profit community based theatre troop. As well, a half dozen or so galleries are scattered around downtown, including the Dick Idol gallery, which hosts a variety of western art featuring local artists, including Colt Idol, Dick's son.
New Age
If you haven't guessed, new age related activities aren't a primary focus of the town. Unlike Sedona, or the yoga meccas of Encinitas and Santa Monica, metaphysics is a bi-product. But there is a small and healthy element or we wouldn't be writing about it.