Spiritual Encinitas
Ocean Energy and Healing
Sit down at GoodOnYa, Mozy's Cafe or any of the numerous coffee shops up and down the 101, sip a draft kombucha and soak in the spiritual energy. It's infused in every conversation, every sniffing service dog. And if there's a computer, don't worry, it's not about banking. They're just working on a new yoga website or spa promotion. Really. The energy is everywhere.
New Age/Metaphysical Store
Earth's Elements (√) [LINK] Located downtown, Earth's Elements is a convenient stop for energy healings, spiritual readings and body work. Practitioners are listed on their web-site. And they're retail store as well, selling art, crystals and a large variety of singing bowls.
Soulscape [LINK] (√) Soulscape sells crystals, books, devotional music and meditation supplies.
Beads, Crystals and More [LINK] We're not bead people, so we initially read right past the 'Crystals'. That was remiss. There's a good supply of crystals inside, and, of course, lots of beads. (Our photography doesn't do it justice.)
Mystical Dragon [LINK] (√) (Carlsbad) An assortment of metaphysical supplies as well as readers on-site.
Meditation & Other Services
Transcendental Meditation [LINK] There is a TM center in town. Information sessions are offered on Wednesday and some Saturdays.
Indigo Dragon [LINK] Get your midwifery here, along with acupuncture, life coaching, Ayurveda wellness counseling and energy healing. It's all at Indigo Dragon, plus more, in Leucadia.
Alternative Worship
Chapel of Awareness [LINK] Primarily a psychic school, the chapel and the Sunday services are extensions of their teachings. Check their service schedule. It starts with a meditation, then moves into a spiritual healing, then continues with more meditation and healing.
Seaside Center for Spiritual Living [LINK] The center follows the philosophy of Religious Science, created by Ernest Holmes, author of Science of the Mind.
The Big Daddy
Yogananda's Self Realization Fellowship [LINK]. While Yogananda is intertwined in much of the community, he, and his devotees do not dominate the town.
Encinitas Temple [LINK] The temple is a branch of the Self-Realization Fellowship and offers inspirational services and periods of open meditation throughout the week. It's doors are open and actually the doors of the Fellowship are open as well, up and around the corner by the gift shop.
A Stretch Into Del Mar
Del Mar is not what we consider a new age town. It's got the horse track and expensive bars. It's basically the wealthiest of the north county beach towns. But with the March, 2017 opening of Journey of the Soul, we think Del Mar's little pocket of New Age is worthy of a shout out.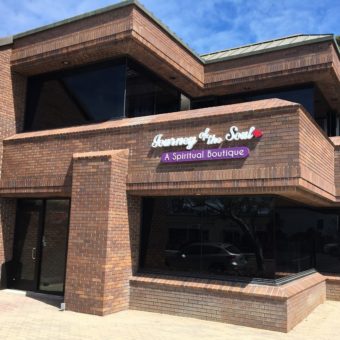 After over twenty years of practice with tarot, energy work and spiritual readings, Angel Enders decided to open Journey of the Soul. She sells spiritual books and crystals and also offers tarot readings and energy work. David Nohr, the resident acupuncturist and herbalist adds his services to the mix. It's a small boutique, but it's full service.
Tucked away on 9th Street, on the west side of the 101, is Acuheart. [LINK] They're an integrative medicine clinic offering acupuncture, blood chemistry analysis and herbal and dietary services.
Back down the 101 towards town, the Dinosaur Gallery has expanded into crystals. And of course there is the long time psychic down the drag with the bright red sign.
So if you find yourself wandering south, for a beachside brunch at Jake's, and get a hankering for some new age goodness, you'll know where to start.
——————————————