Spiritual Idyllwild
Thin Air and Lofty Pursuits
Perhaps it's the altitude, but the density of spiritual groups is high. There are churches of many denominations as well as what we consider more traditional new age pursuits.
There are meditation groups, Course of Miracles groups, Shamanic pursuits as well as a variety of energy healing. To actually dive in, one would need to make some contacts and ask around. We're here to give you a head start.
Teachers and Practitioners
We're reluctant to mention specific people because people can move, change their numbers or their practices. However, Idyllwild's small, so we're adding a few.
Trine Bietz. [LINK] Beside yoga, Trine has extensive experience in shamanic practices. She offers an Original Circuitry Reboot as well as periodic workshops.(√) For the specifics, contact Trine.
Christina Nordella. [LinkedIn LINK] Internal Balance and Bodycare. Christina practice Jin Shin Jyutsu, a Japanese form of energy healing. (√)
Andrea Bond. Massage therapist extraordinaire (√) (and voice teacher as well). [LINK] Whatever she has going on, it's not your typical massage.
Retreat Centers (+)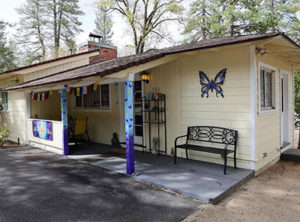 Spiritual Oneness Center. ([LINK]) The center, located near the center of town across from Ferro restaurant is more of a community center for those with spiritual pursuits. It's small, befitting the town. The center is available for rent for meetings, healing, and training.
Present and Positive [LINK] It's a small, neighborhood retreat center. In the yurt they offer regular yoga classes and daily meditation. Periodically, the center hosts visiting spiritual teachers and retreats. And there just so happens to be a climbing wall built into the house, and a slack line.
Spirit Mountain Retreat [LINK] Spirit Mountain is small, five bedroom center tucked behind the main road within walking distance of the town center. They offer individual sabbaticals and group programs. Meals can be included if desired.
A Little Zen
Karma Mahasiddha Ling (aka Idyllwild Dharma Center) [LINK] A few miles down the road in neighboring Pine Cove is the It a small meditation center located in a brightly colored house. They offer meditation for the public as well as weekend workshops.
In addition to the center in Pine Cove, there are two more zen centers in the area, the Zikoji-Zen Mountain Center [LINK] and the Diamond Zen Center [LINK]. Check out our Wednesday Wander through the three zens here.
Stores
Lady of the Lake Metaphysical Books and Gifts (and clothing). It's the local crystal, metaphysical, psychic and tie dye clothing store. (√) Unfortunately, we couldn't find their link, so we're including their Yelp page.
——————————————