Spiritual Venice
Psychics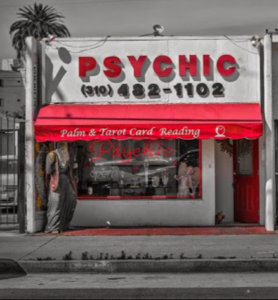 A quick walk down the Venice boardwalk gives you a taste of what's lurking throughout the town. That's where I had my palms read, by a kind reader who didn't want to be photographed. She confirmed, without prompting, that I don't like taking orders. This, according to her, was apparent by the depth of my lines.
Venice Psychic A little shop right off Lincoln. Lincoln is the main business street for a wide variety of stores.
Mystic Journey Bookstore — see Stores below.
Meditation
Green Tree Meditation Not technically a center, Green Tree Meditation is the organization of Christian Bevacqua, a Venice resident who teaches Vedic Meditation, in Venice and in workshops at places such as the Joshua Tree Retreat Center.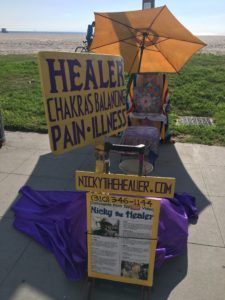 Energy work
Nicky The Healer [LINK] Chakra balancing is also available on the strand. Take a walk and see if you can't find Nicky.
Stores
Mystic Journey Bookstore (√) [LINK] Mystic Journey is a full service metaphysical bookstore. They sell books and crystals, oils and paraphernalia. In the back is a nice space for readings and events. It's one of the nicest stores of its type we've been in. And to boot, it's located on Abbott Kinney, America's coolest street, according to Forbes.
The Aura Shop
(Santa Monica) [LINK] (√) A cool crystal and healing shop on Main in Santa Monica. In the back, there's a healing room, dubbed the Room of Ascension, with singing bowls and crystals.
Drums
And another reminder, if you're there on a Sunday, bring your drum, bang on it and dance at the beach until sunset, when the cops come. It's as big a circle as I've seen and worth a stop.
———————————————–