Idyllwild Food and Juice
Unexpected Culinary Pleasures
For a small town, Idyllwild has a large number of quality restaurants. Because of the number of spiritually aware locals and health conscious visitors, many restaurants will actually cater to vegan, or vegetarian diets. We could review almost every one, because we've eaten at most, but we'll stick to a few and list some others. Happy eating.
Health Food
Sky Island Natural Foods [LINK] Organic groceries, bulk food, a small cafe and an on-site juicery. Pretty sweet for an isolated town of thirty-eight hundred. (This is the home of Meadow Greens Cafe)
Sky Island is also the host of the Plant Food Supper Club's [FB Link] monthly dinners. Beyond the dinners, the Suppoer Club offers personal chef services and catering, all centered on healthy, vegetarian cuisine.
Restaurants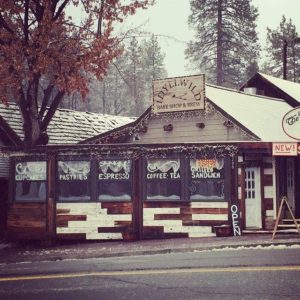 Idyllwild Bake Shop and Brew. [FB Link] We know, brew is not very new age, and the proprietors aren't as much worried about low fat as they are about high quality. But their blueberry scones rock. They were a staple during our stays. Also, their build-your-own sandwiches, on home made bread, can be made vegetarian. In other words, you can control your diet.
The Town Baker. [FB Link] This is another bakery, and its back yard is the location of one of our summer yoga classes.
Idyology. [LINK] A mountain restaurant with an Old West feel. The deck backs up to the creek. They have cold beer and a full bar and live music on a regular basis. (And if we didn't mention it already, the quality of music in Idyllwild is high) Idyology is also another venue for outdoor summer yoga. And if you're in for a quick tarot reading, there's a supply of cards on the bar.
In addition, Cafe Aroma, Ferro's, Gastronome and Tommy's Kitchen all offer consistent, quality food along with outdoor seating. The Red Kettle is a breakfast institution, and don't forget Joann's on a Sunday for a live band and fresh burgers.
We haven't listed them all of Idyllwilds restaurants. You'll have to visit to get the full taste of the town.
——————————————