America's New Age Towns
Best New Age In The USA
This is our list of the best new age and spiritual towns that we've found through our research and travels through North America. The towns vary from metaphysical destinations to yoga meccas to hippy havens, but all have some sense of new age spirituality, as defined by us. We haven't been to all of the towns we list, and many that we have visited were part of our exploration rather than sources for research. The towns we have documented the most are listed at the top, with links to our pages. The towns still in need of more investigation are below. The (√) indicates that a representative of the site, currently me, has experienced the place in some significant way. Lastly, if you're looking for our ranking of the best metaphysical and new age towns, we aren't there yet, but it will come. The information provided, along with your own experience, will help you make that determination.
California
The hippest of San Diego's north county beach towns, Encinitas is one of the fittest cities we know. Full of yoga and surfing, and Yogananda's Self Realization Fellowship as well.
A very small mountain town, population 3800, in Southern California. It is home to a disproportionately large number of artists, musicians and new age practitioners.
Laguna Beach (√)
We've been through, a few times, but we haven't written it up. We can attest that it is full of art and yoga and eclectic people. And it's got a nice little beach and basketball court. And the Tommy Bahama restaurant has (at least in 2018) a great happy hour.
A high desert town with two stop lights, throngs of climbers wandering in and out, a few healthy eateries and good new age/artsy vibe. To us, it reminded us of Topanga, not because of the landscape, which is vastly different, but because of the vibe of the people.
North Park is a hipster neighborhood in San Diego just north of Balboa Park. It's got grunge, tattoos, lots of yoga and some adorable little cottage homes for the family set. Of course, there's a little metaphysical thrown in for good measure.
Not a traditional new age town (we know, traditional new age is ironic), but on a quick walk through downtown Palm Springs we passed two psychics and a tarot reader. So we thought it worth a mention. Still an LGBT destination, there are also many coffee shops and outdoor restaurants and art galleries and a combined art gallery/coffee shop.
Santa Cruz
We've been through but once. However, it's categorization as a new age town in accepted fact in California.
There really are canals in California's Venice, as well as lots of organic food and yoga and psychics and artists and just about anything else you're looking for.
Arizona
Yes, yes. Sedona will be at the top of the list when the ranking is compiled. The way metaphysical pursuits pervade every facet of the town is extremely rare, but understandable. Not only is it home to a number of high energy vortexes, but one look at the red cliffs and awe is invoked. We've spent a goodly amount of time there and fully believe that Sedona is one of the prettiest places in the U.S. If you haven't been, go, for no other reason than the beauty.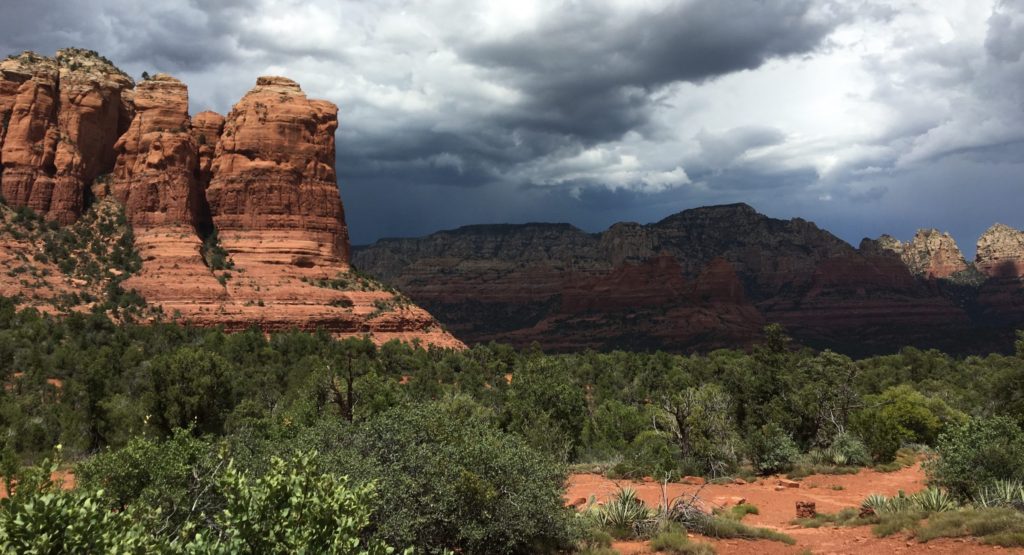 Hawaii
Maui, Kauai, The Big Island. We know spiritual energy flows through all of the islands. They're volcanic for one. Heck, Kilauea is still spewing lava into the ocean. Kauai's got jungle folks and shamans and reiki. There's surfing all over the place and more ecosystems than you can shake a stick at. We're starting with two, Paia and Puna.
We'd say more about Hawaii, but it's as close to paradise as we've found.
North Carolina
The South doesn't have the same density of new age communities as the West, but Asheville is definitely on the list. It's pretty, wooded, and even though it's pushing 100,000 people it still has a quaintness to it. And the new age vibe is broad spectrum. There's lots of yoga, reiki, meditation and a number of spiritual retreat centers.
Massachusetts
Not on our radar initially, but once we started our on-line digging into alternative spiritual towns, Salem, Massachusetts popped up frequently. The legacy of the witches remains and still influences the area. However, our research indicates that some modern metaphysics and yoga has entered the area.
——————–
Ashland, Oregon (√)
We've been there, and it's a cool town, but we didn't delve into the new age scene very much. The town does host a Shakespeare festival and live bands during the summer at a little amphitheater downtown.
Austin, Texas (√)
Austin is a little too big to qualify as a town, so we're going to attempt to narrow it down to a neighborhood or two. But as a former resident, we can confirm that the weird scene is alive and well, even with the influx of technology money. In the meantime, check out South Congress and East Sixth. And don't worry, the music scene is still thriving.
Big Sur, California
The home of Esalen, [LINK] a new age retreat center that's been around for more than fifty years and has spawned tell sites such as ESALeaks. [LINK] Conflict and new age converge — we've got to go investigate for ourselves.
Boulder, Colorado
Another town we've visited. That trip, however, was about NIST and seeing the atomic clock, which was super cool if you're into the theory of time. Beyond that, the town is definitely liberal. There are a lot of pot shops and college students and bars. It's also the center of Ken Wilber-based integral movement. And then there's the skiing.
Cassadaga, Florida
We know very little about the purported 'Psychic Capital of the World', but we're intrigued. The more we read about it, the more we HAVE TO GO. And Florida's not so bad in the winter.
Crestone, Colorado
Reputed to have a spiritual center on every corner. Or so we heard. But it's so small that there aren't many corners.
Eureka Springs, Arkansas
Thanks to a tip from Jane-Ann, we found another metaphysical town in Arkansas. It appears that the springs bring the vibe, and if the Thorncrown Chapel is an indication, it's home to some pretty cool architecture as well.
Floyd, Virginia
The rumor is that there are at least ten intentional communities in the area. That's pretty new age to us.
Hot Springs, Arkansas
This springs town we discovered from our on-line search. We haven't been to Hot Springs, but we like to get ourselves into hot water, so there's a draw right there.
Lily Dale, New York
According to the Travel Channel, [LINK] of the 275 residents, 45 are certified psychics. And it's close to Cassadaga, NY, namesake and spiritual compadre to Cassadaga, Florida.
Manitou Springs (Colorado Springs), Colorado
Word is that there is a solid pagan contingent there. And we happened upon the Earth Spirit Pagans [LINK] which has some resources for Colorado Springs pagans.
Mount Shasta, California
Shasta is another little town we drove through but didn't dive into. There are a lot of stories about the mountain. We hear it's an energy vortex for the first chakra. There are, of course, Lemurians hanging around. And it's a volcano. Even dormant volcanos have strong energy. So we'll make our way back soon enough.
Ojai, California
The long time home of the enlightened guru J. Krishnamurti, it now boasts the highest number of mind-body spas per capita in America.
Port Townsend, Washington (√)
A small coastal town on a stretch of land jutting off of the Olympic Peninsula. It's isolated, a little funky, and has a nice new age vibe. And, as we understand it, the weather is better than on other parts of the peninsula due to some isolated weather patterns. The town itself had an Idyllwild vibe, with more ocean and less rock climbing.
Santa Monica, California
Trendy, still hipster, and full of health food and esoteric yoga. Movie stars wander the streets, eat at local restaurants and wear yoga pants. And rumor is that there's a beach nearby. But maybe that's just rumor, because it doesn't feel beachy at all.
Savannah, Georgia
This just popped up on our radar, and we discovered it was the host city for the Pagan Pride day in August, 2016. We spent a couple of days there in 2014 walking the city and were pleasantly surprised. You can catch a chess game at The Gallery Expresso or a band at the Warehouse Bar down by the water. And we dare you to walk the historic district without bumping into a park. We dare you. As for new age happenings, coffee shop chess was as close as we got. But then, we were weren't looking.
Summertown, Tennessee
Tucker, in the comments below, has verified that there is a 1000 acre Farm with hippies and solar power and plots of land where food is grown. What's more new age than a vegetarian commune? And anyone is welcome, as long as you respect the residents. Here's the link to the Farm Community.
Taos, New Mexico
While Santa Fe has the art scene and expensive restaurants, Taos is more conducive to the hippy crowd. And of course, there are reports of aliens in the area, and earthships.
Topanga, California
Hidden away in a twisting valley northwest of Los Angeles, it's where famous people go to hide. We also know there's a good element of energy healing and mysticism in this valley, but our stay focused on coffee and Mexican food, and a hike of course.
Woodstock, New York
Ranked by Yoga Journal as one of the top 10 yoga towns in the country, Woodstock is home to both Krishna Das and the group SRI Kiran so if you're searching for devotional music, you'll find some. We're on our way — eventually.